Discussion Starter
·
#1
·
INTRODUCTION
Some of you are struggling to insert photos. There are 2 ways, one is to drag them into that little black box under the message window but that isn't ideal because it actually uploads the photo and due to size restrictions, they end up being a thumbnail that you click on to expand and isn't usually very clear.
The best way is to use an image hosting site. This is where you can upload your photos and they sit there with a link that is unique to each photo. If you then provide a link in a forum like this, you actually see a window that looks right through this forum window at your hosted photo - its all spooky stuff!
I use photo bucket but there are others like Flickr that I would imagine are similar.
It will seem a bit drawn out at first but it does get to be instinctive when you've done a few so bear with me.
GETTING STARTED
Search for Photobucket on a search engine and click to open it. The service is free unless you want to buy more space but I've got hundreds of photos on there and I've only used up 8% of my allowance. They bombard you with adverts but again, if you want it free you'll have to put up with that!
When you open the home page, you will be asked to create an account or login. It's easy and only takes a couple of minutes;

Once you have logged in you will get your own personal home page. Just a word of caution at this stage, in the settings you can choose "private" which restricts your viewers to that photo only. If you don't and put other things on there like a picture of a spot on your bum, the world will be able to see it (not that I have any spots on my bum of course).
At the top of your home page there is is an upload button which is repeated a bit further down too;

If you click on either, it will take you to your upload page;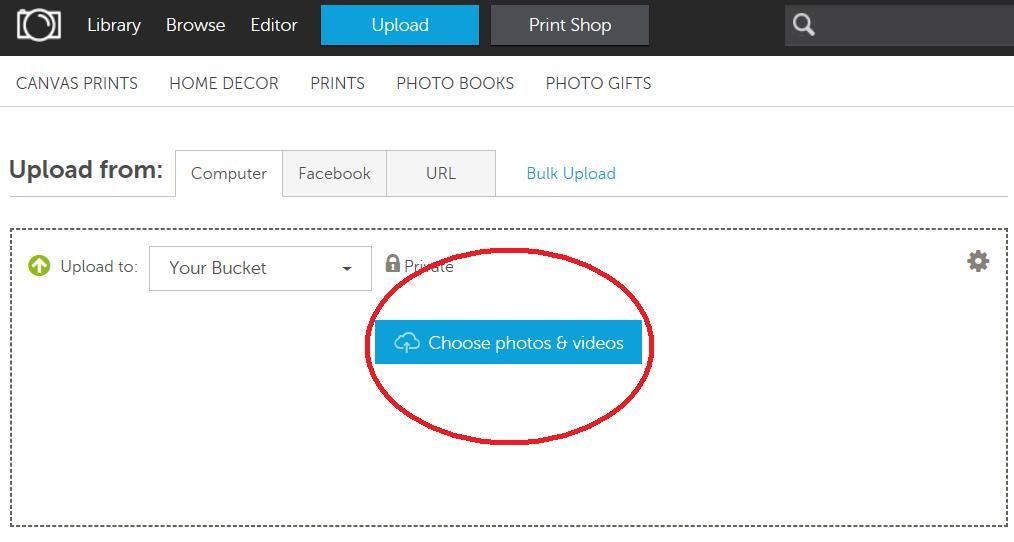 Now click on that button and it will open up a window to the files on your computer. Don't worry, nothing is visible to the world until it has been uploaded.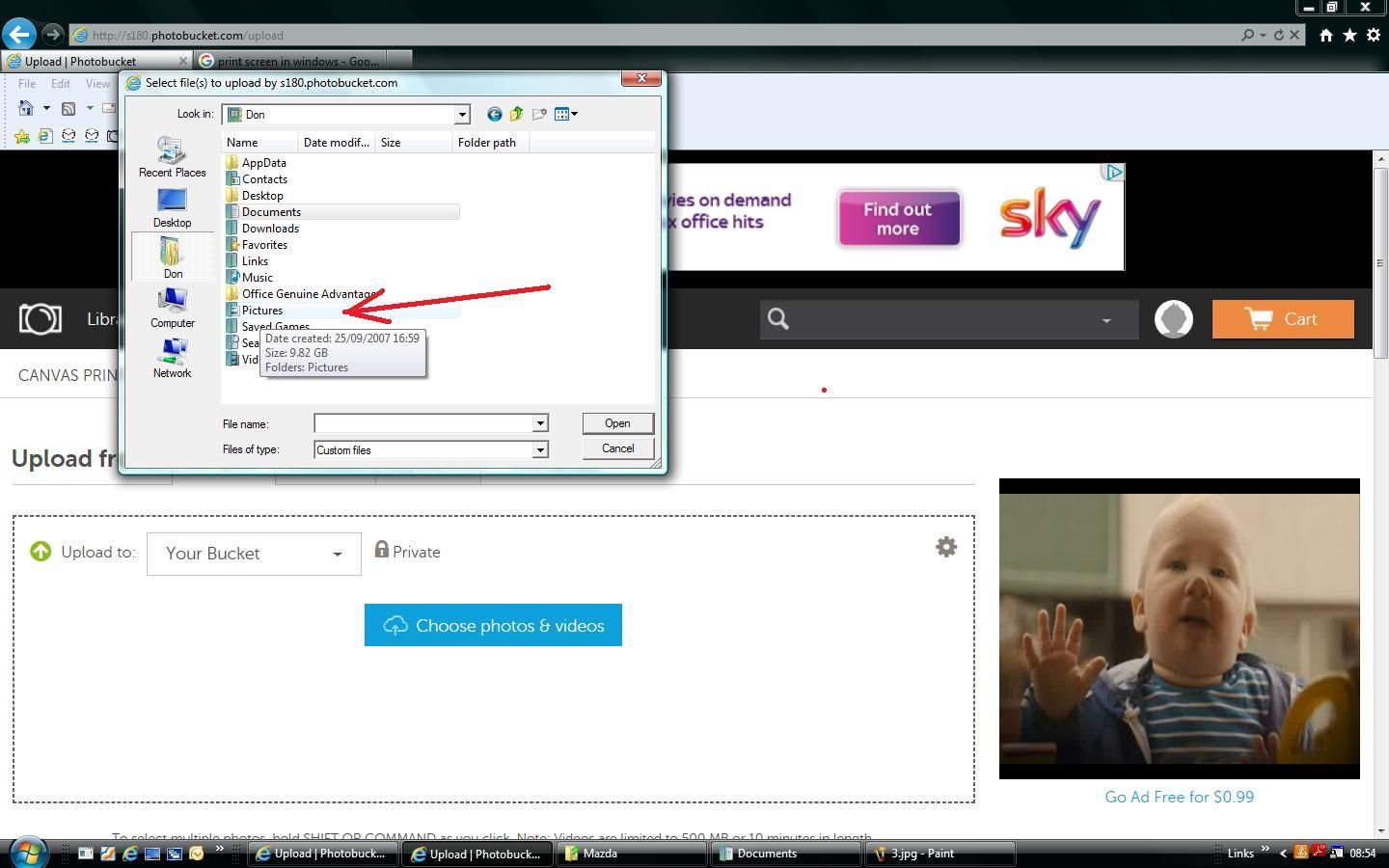 Now open your photos and you can browse through the files and find the one you want;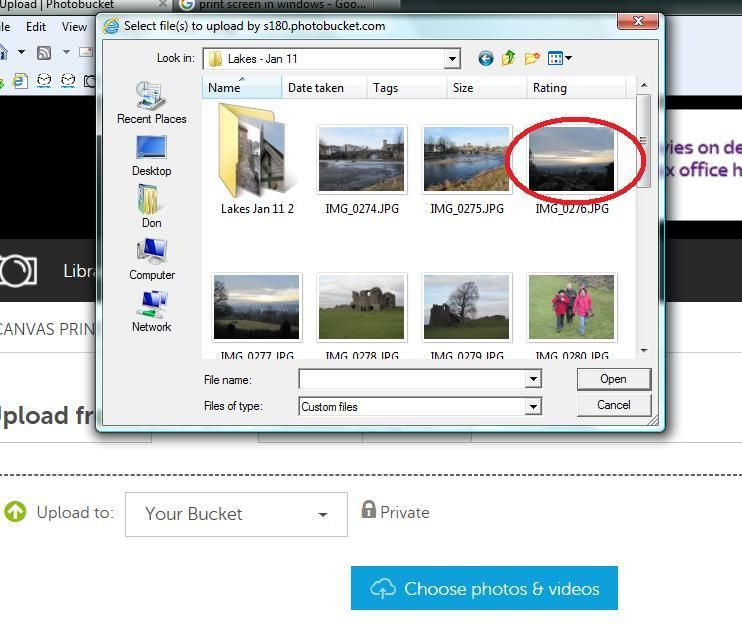 Click on the "open" button to select it or you can choose multiple photos. In my hypothetical example I have taken a photo of the Lake District on a cold winters day. As soon as you click the open button, the file will start to upload and you can see the progress. How long it takes, depends on how big the file is, how many photos you've chosen and how fast your internet connection is. I personally would only do it while connected to the internet.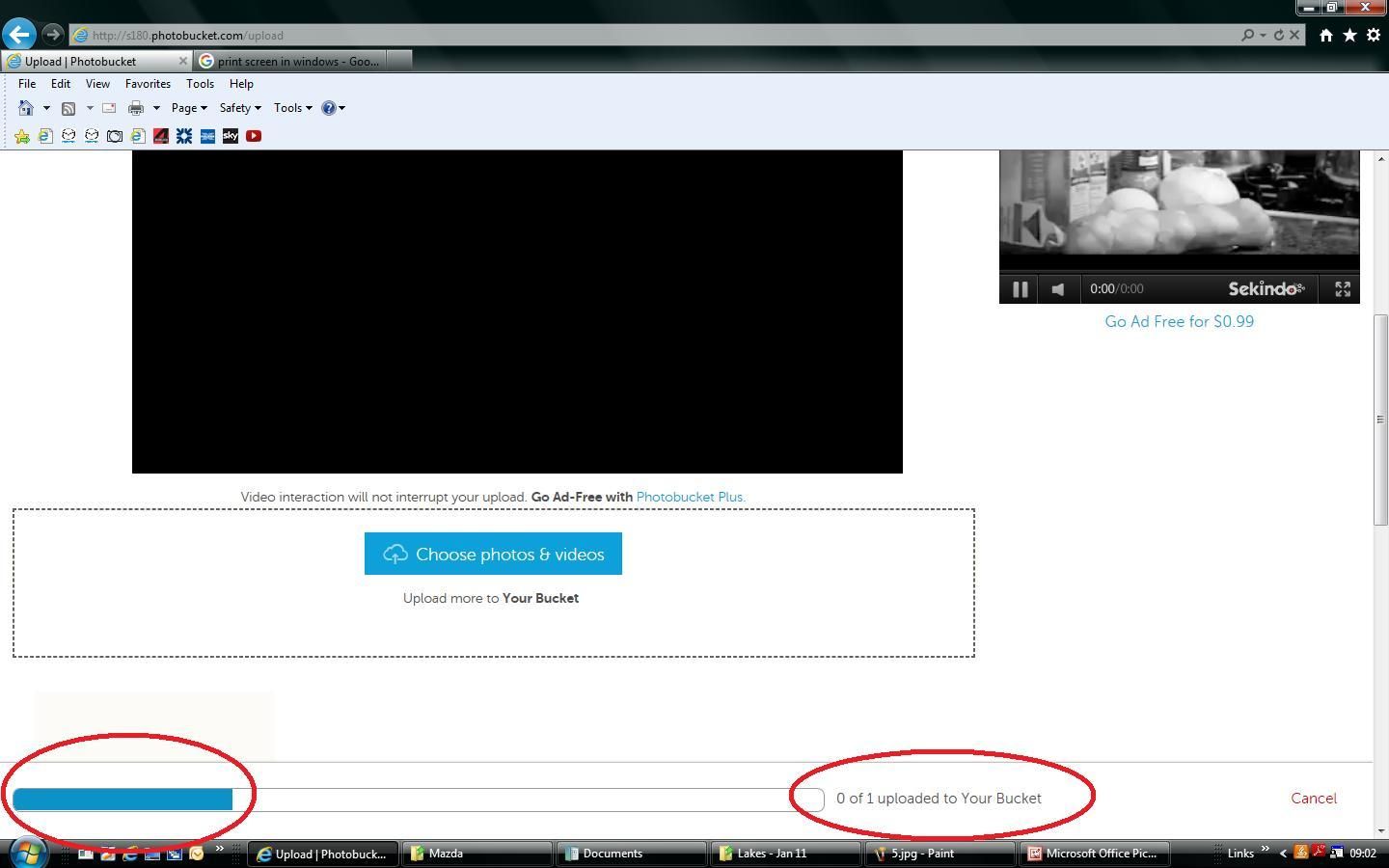 OK, once uploaded it will take you to an interim screen that just allows you to add a comment or a tag for easy finding afterwards;
Now if you click on the library tab at the top of the page, it will save those comments with the picture and show you the rest of your uploaded photos;
....and it looks a bit like this. You can see the little padlocks on my folders;
If you hover over the photo you want, it will drop down a little text box;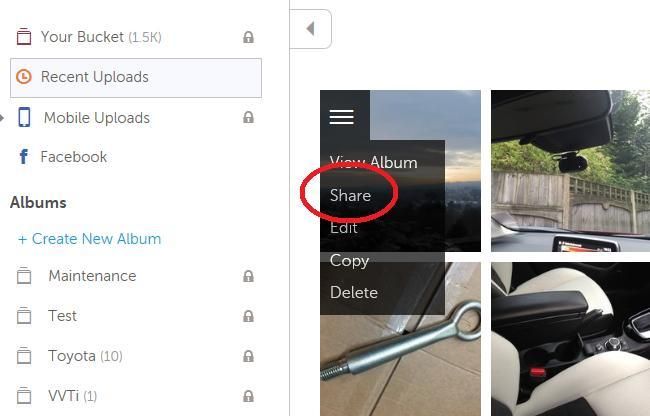 Click on the share button and it will show you a box like this;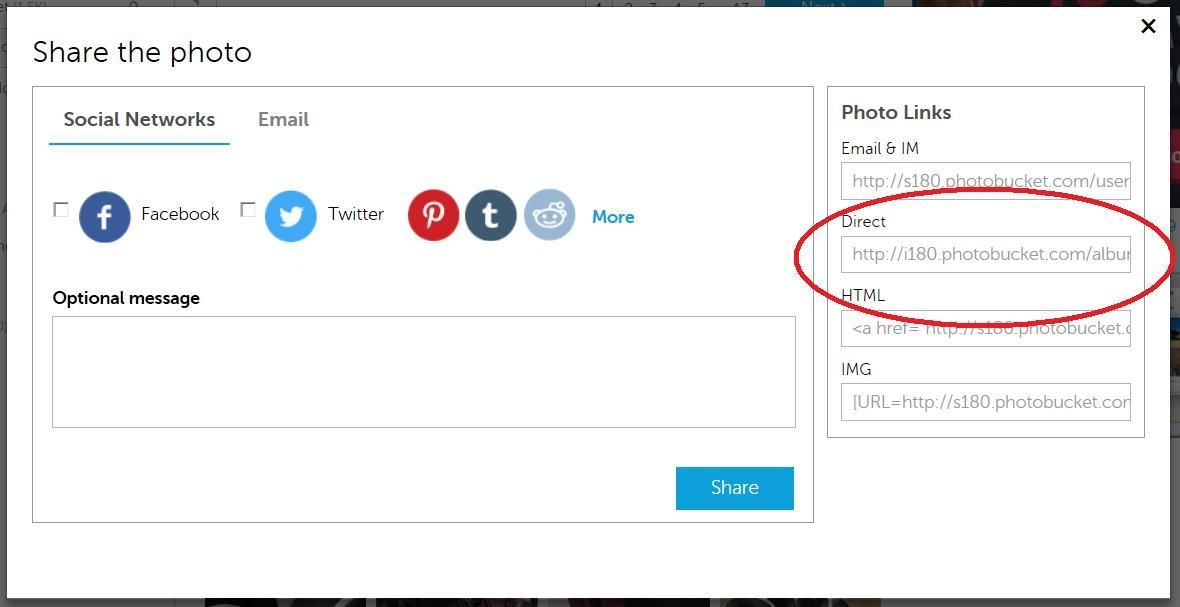 If you click on the "Direct" button it will copy the link for you. It is only copied if it tells you so and looks like this for a moment;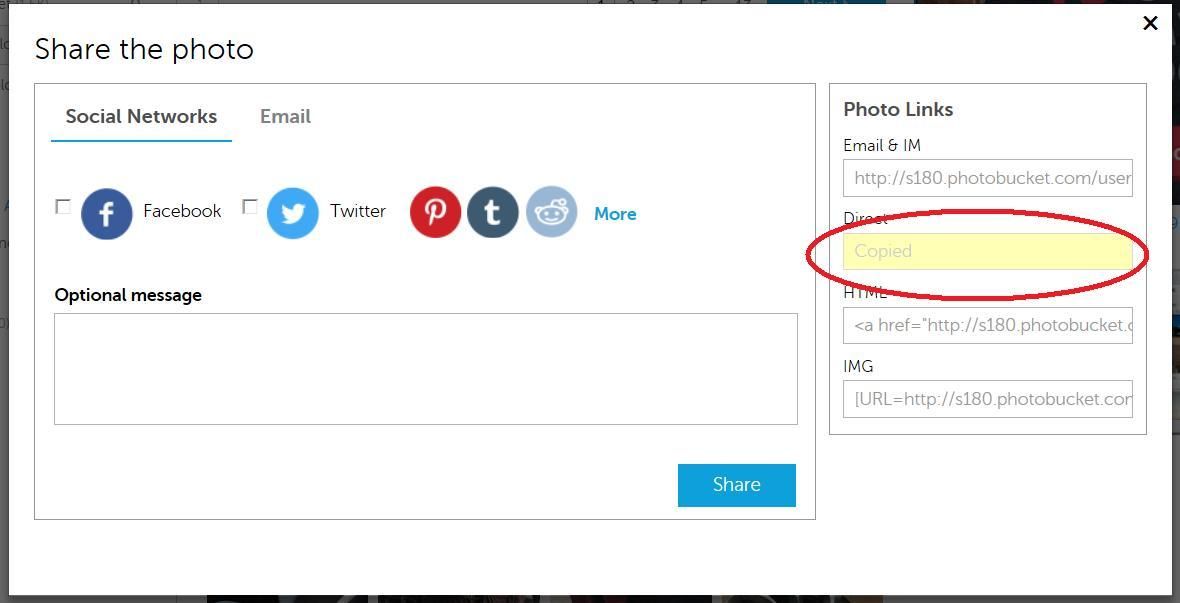 That tends to work fine from a desktop computer but in my experience, it doesn't work very well from a tablet. In fact, I've only had limited success using photo bucket from an App so I would request the desktop site from a tablet anyway. The point is that you need every character out of that "Direct" box if you want to get your photo to work on the forum! That is the address of your photo.
Now we have to move to the Mazda CX3 forum. If you look just above the message window, you will see a row of tiles. One looks like a picture of mountains and the sun;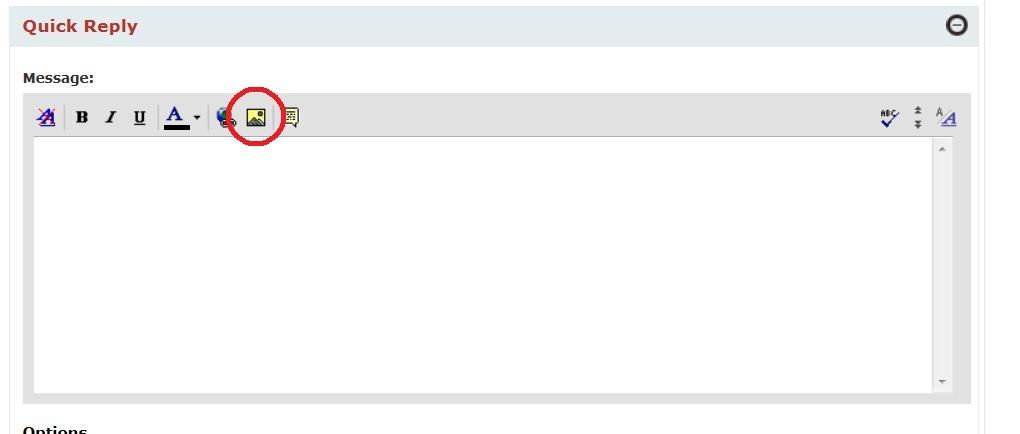 If you click on it, a box opens that looks like this. I did these screenshots on a windows computer but a mac is very similar. Notice that the "
http://"
part is highlighted. That means you can copy straight in. Just press control V on a windows computer or Command V on a Mac or Apple computer. If you click into the box you will paste your copied photo address behind it and it won't work because it will add the "
http://"
part twice!
OK, when you have copied the link from photo bucket to the message window it will look like this;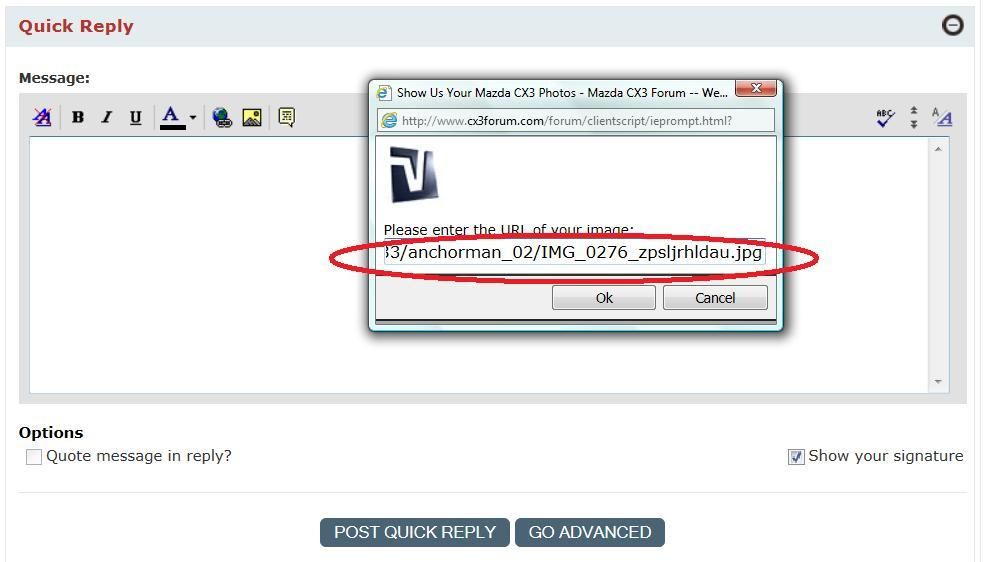 Nearly there! If you now click the "OK" button, it will add this address into your message. Notice that "http:/" has only appeared once and that the boxes have been added to each end. These are necessary to make the final message show your image.
[IMG]http://i180.photobucket.com/albums/x133/anchorman_02/16_zpsb8j7ldcn.jpg
Of course you can edit the box to add text before and after the photo in the normal way (blue ovals) or you can add another photo in the same way (green ovals). If you are happy you can just click "post quick reply" (red oval) or "Go advanced" (maroon oval) and preview your message with the photos before you post;
Finally, I will add the Lake District photo as shown above;