Well not a direct competitor but some of you have asked me for my comparison between the CX-3 and the CX-5 I now run. To put it somewhere logical I've added it here.
Here it is as delivered, the same colour and spec as the CX-3;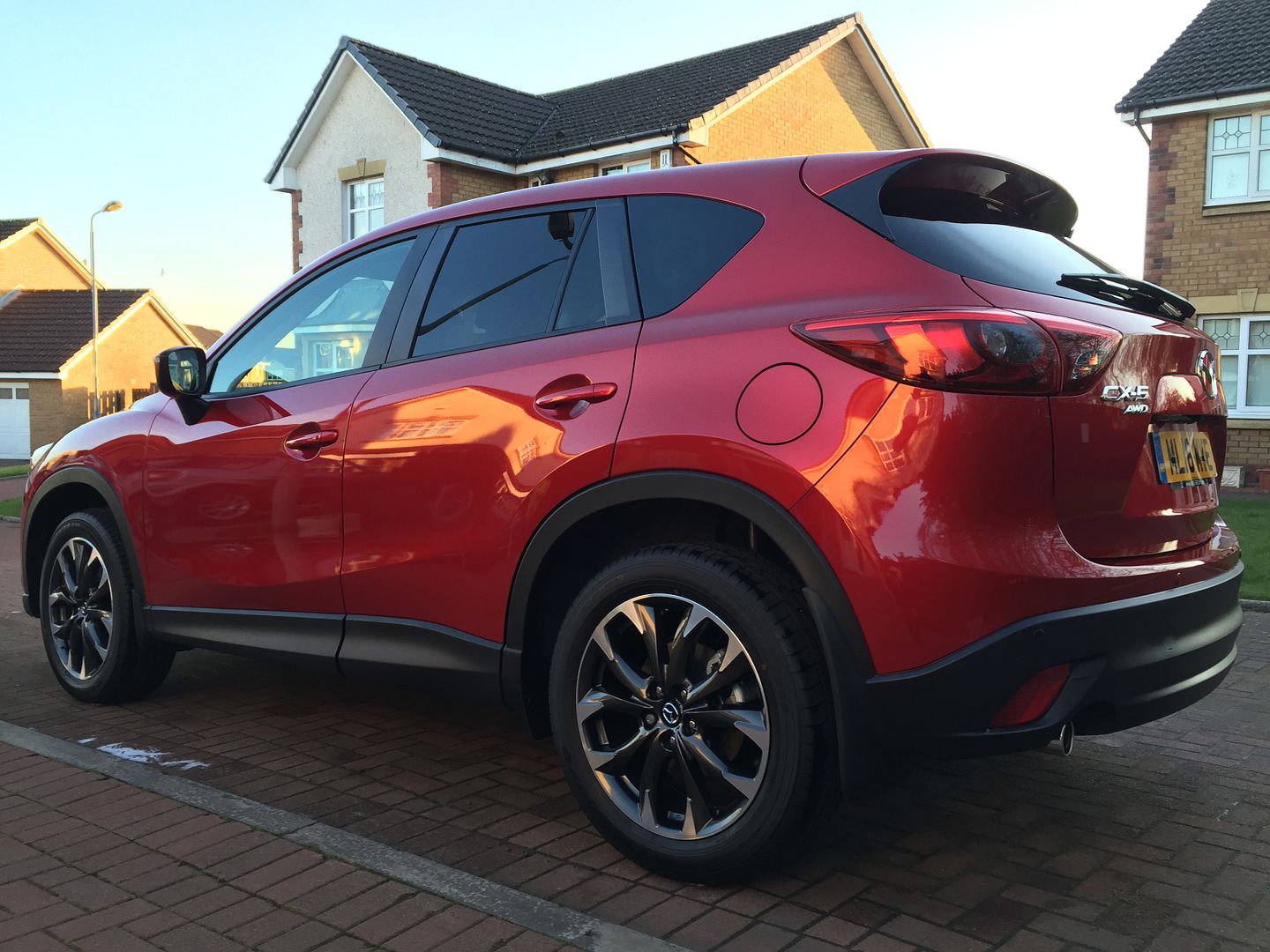 And you know I can't resist shodding up with winter tyres but when I bought these wheels off eBay, the tyres were only about half worn so to help me justify the cost, I thought I'd run off the original Mazda Yokos;
What is worse than the CX-3?
Well, the obvious things, it takes up more space in the garage and has much more area to satisfy my obsession with washing - sometimes three times a week (err, or more). It doesn't look as nice from any angle, inside or out. Then again, nothing does. The dash isn't as clear to read. The CX-3 has the latest technology but the CX-5 uses an older display which is not as bright.
What is better than the CX-3?
First of all, let me reiterate this space thing. I don't get it when people buy a CX-3 then complain about the space. I knew full well before I bought it what the score was. At the time it didn't matter and we (anchorwoman and myself) thought it would be just us most of the time but in fact, things changed and it turns out it wasn't going to work for us. I normally sit right back so with passengers I had to scoot right forward where I wasn't comfortable driving. The problem was then compounded by my personal major criticism of the CX-3 and something that wasn't so apparent during a test drive, for me, the suspension was too soft and highlighted the fact it is based on a 2 and not a 3. I know some of you like the suspension but when five up, the car becomes wallowy and a tad unnerving. Additionally, on my way to work, I have to negotiate a long stretch of speed bumps - big ones that required me to crawl over them to save bottoming out and now I'm back to just driving normally like I did in previous RAV4s. They don't flinch. And my last critism of the CX-3 was the over bolstering of the seat. It's just another of my peculiarities that I don't like bucket type seats. I did know full well when I bought it but thought/hoped that I would get used to it. I did like the suede panels. The CX-5 is all leather which is not as nice to sit on and doesn't get as warm as quickly as the CX-3 did in winter.
Right, that addresses my three major critisms that provoked the change. Now I'll cover some of the benefits of the CX-5, some obvious, some less so. There is no doubt when you consider the difference in list price, at least in the UK, you get an awful lot more car for your money. While the gearbox and the rear diff/AWD unit are identical, the amount of sheet metal, engine, suspension, wheels etc, seem to outweigh that cost difference. It should cost a lot more or the CX-3 should cost a lot less. Maybe in future revisions, the detail in the CX-3 will improve; there are all illuminated window switches, all auto up/down window switches, photochromic interior mirror as standard. There are also twin horns. Obviously, the storage issue is resolved through physical size and there is a cavernous storage box, wide console and electronic parking brake - another expensive addition that the CX-3 was crying out for in order to make storage space on the narrow console. The LED headlights are slightly different and certainly have a much longer range. On the CX-3, they physically move to look round corners but on the CX-5, it has 24 main beam LEDs (12 on each side) which respond to the windshield mounted sensor to light up different areas of the road. It still looks round corners but by altering which LEDs are lit. It also has 3 side mounted LEDs on each side that create a floodlit effect when stood at a junction to illuminate pedestrians and cyclists etc (you can just about see them in the photo). I thought these headlights would be gimmicky but it's worth going out in the dark just to watch what they are up to. Not only do they auto dip but they can just dip one or either side of a car you are following - quite amazing! There is a power socket in the boot/trunk which solves the rear camera power supply but for any of you contemplating a rear camera, here's a tip. Do not run the feed through the right hand side rubber gaiter. I did on the CX-3 and this CX-5 and I've completely screwed the reception of both the DAB and conventional radio. I thought it was poor on the CX-3 and when I got this 5, it was wonderful by comparison and could pick up weak stations out in the sticks where I live. That is until I fed the power supply through the same gaiter as the antenna then it was back to only getting a few of the strongest stations. There must be a field set up that it doesn't like. That is a job for another day, I will run 12v all the way round to the other gaiter and in through the left side and then add an accessory socket inside the door (my camera has the 12v to 5v dropper inside the plug so I can't snip it off). The facia is nice, it feels soft and rubbery and the infotainment screen is embedded in the dash which anchorwoman prefers. The auto A/C is superb. I didn't mind the knobs in the 3 but there are more levels of control in the 5 and I'm pleased to report that it is just as unbelievably hot as the 3. I can make my shoes smell like they are melting.
One last thing. The rear wiper is big enough that it wipes a big area and while I used to leave the rear wiper on intermittent on the 3 for the sake of the rear camera, this 5 hardly ever gets wet. It doesn't suffer from immediately getting filthy as soon as the road is wet, let alone raining. Using the rear washer just cleans the glass and doesn't require follow up wipes to clear water left dribbling down. Just little things but they appeal to a fusspot like me.
Actually, another last thing. It pulls like a train. There is a 150 and a 175 option of diesels in the UK of which I have the latter and it can deliver 420Nm of torque. It is quite capable of pushing you back in the seat but for normal driving, light throttle makes good progress and quite good fuel economy. To give you some idea, the 2.5G engine has 185 ft/lbs of torque and the 2.2D has 310 ft/lbs.
If you have any specific questions, fire away.