Junior Member
Join Date: Jan 2016
Posts: 18
Mentioned: 0 Post(s)
Tagged: 0 Thread(s)
Quoted: 1 Post(s)
Arrived today!
---
I got the call from the dealership today to say that my CX-3 Individual had arrived and I could come and look at it and discuss the tint options.
They did warn me that it wasn't going to look pretty after it's journey half way around the world on a ship and then on a vehicle transporter. Tomorrow it's getting it's PDI, valet, and the tint.
The guy who does the tint showed me a CX-5 he had just done that looked very nice, so I've told him to do the same percentages for mine. It's getting 35% on the front side windows, and 50% for the others, as they already have tinted glass from the factory (looks like it may be around 75%).
I'm having the front bumper and headlights wrapped with Xpel Ultimate at the dealership on Friday morning. They were happy to let the installer come and do the Xpel at their prep centre, and they're giving me access to the car before he arrives, so I can clay bar the front prior to the Xpel being fitted.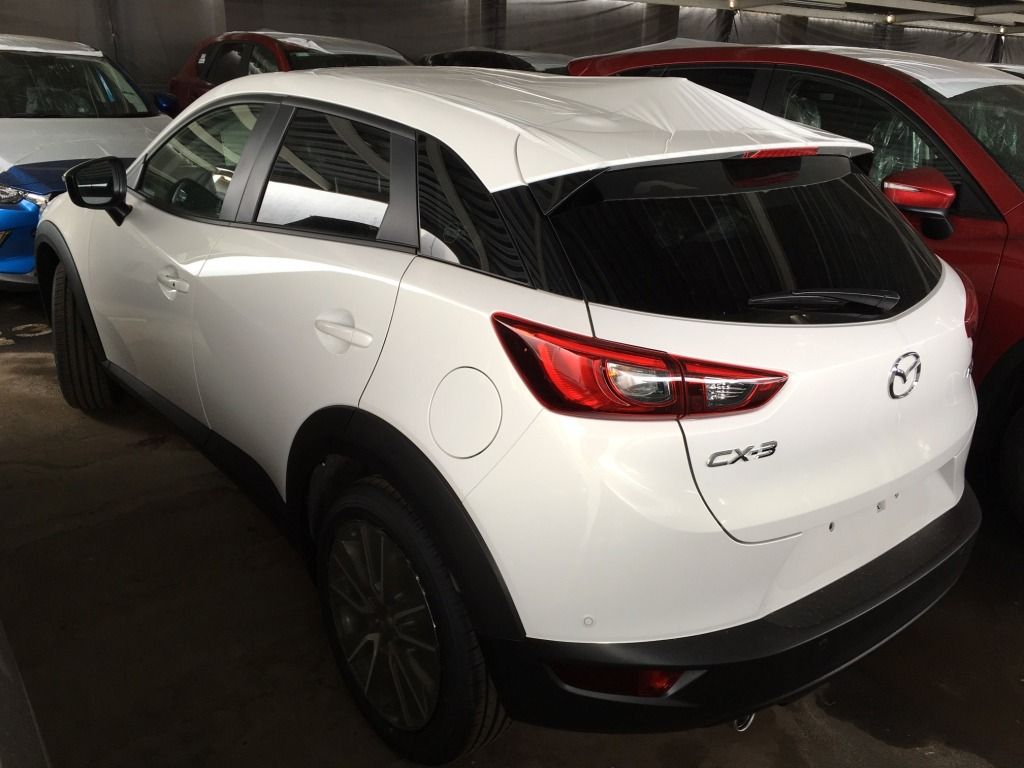 Senior Member
Join Date: Sep 2015
Location: Illinois
Posts: 193
Mentioned: 7 Post(s)
Tagged: 0 Thread(s)
Quoted: 50 Post(s)
Congradulations on your CX3.... I'm sure you will love it. I had 18% carbon tint installed on all windows except the windshield. The tint percentage identifies the amount of light the tint will allow to pass through the window. Therefore the lower the number, the darker the tint. In my opinion, I would tint all windows the same. Enjoy your ride.
---
Ceramic GT, AWD, 18% Window Tint, Matte Black Enkei Raijin 18x8 with Black Spline Drive Lugs, 225/45R18 Michelin AS3, All Weather Floor/Cargo Mat, Splash Guards, De-Badged Tailgate, Black Plastic-Dip Accents
Junior Member
Join Date: Jan 2016
Posts: 18
Mentioned: 0 Post(s)
Tagged: 0 Thread(s)
Quoted: 1 Post(s)
Love that 18% carbon you've done. It really highlights the "floating roof" design.
My intention is to have all the windows look the same, but the rear windows already come tinted from the factory, and I only have a choice of 35, 50, or clear. I saw the combination I've chosen on the CX-5 and the 50% tint on the already darkened rear windows is marginally darker than the 35, but I think it's the closest match I can get. A clear film on the rear windows would probably leave them lighter than the front, and I don't want that.
The 35 is as dark as they allow here legally on the front side windows, and as my drive to work on winter mornings is in the dark I probably wouldn't go darker even if I could.
The film they are installing is also for security. You can see the difference it makes here:
http://youtu.be/oN1TnQtRUfw
---
Last edited by AlexMc; 01-20-2016 at

08:15 PM

.
Super Moderator
Join Date: Jun 2015
Location: Seattle WA
Posts: 872
Mentioned: 5 Post(s)
Tagged: 0 Thread(s)
Quoted: 206 Post(s)
Congrats! Glad its arrived and you must be enjoying it.
---
2016 CX3 GT w/ i-Activesense. Black on Parchment and lovin it!
To view links or images in signatures your post count must be 0 or greater. You currently have 0 posts.

Super Moderator
Join Date: Jul 2015
Location: Derbyshire UK
Posts: 2,078
Mentioned: 41 Post(s)
Tagged: 0 Thread(s)
Quoted: 483 Post(s)
Brilliant. Hot off the ship so to speak. Make sure it's run in before tackling such steep hills as OLW ;-)
---
Currently CX5 SportNav 2.2 diesel automatic and AWD.
Formerly CX3 SportNav 1.5 diesel automatic and AWD.

All advice is given in good spirit and taken entirely at the readers own risk. WORK SAFELY. ©2018 anchorman

ď.........and another thing"
Senior Member
Join Date: Nov 2014
Posts: 275
Mentioned: 2 Post(s)
Tagged: 0 Thread(s)
Quoted: 52 Post(s)
Congrats on the toy
Junior Member
Join Date: Jan 2016
Posts: 18
Mentioned: 0 Post(s)
Tagged: 0 Thread(s)
Quoted: 1 Post(s)
Posting Rules

You may not post new threads

You may not post replies

You may not post attachments

You may not edit your posts

---

HTML code is Off

---