Junior Member
Join Date: Mar 2016
Posts: 8
Mentioned: 0 Post(s)
Tagged: 0 Thread(s)
Quoted: 0 Post(s)
Added JL Audio bass
---
Hello all,
My car came with the Bose audio system and after sometime I came to find that the system sounds pretty good but lacks "low end" and the 5" sub was not cutting it. I purchased a powered sub from JL Audio with a remote bass knob. All I can say now is WOW!
ACP108LG-W3v3 - Car Audio - Subwoofer Systems - MicroSub+? - JL Audio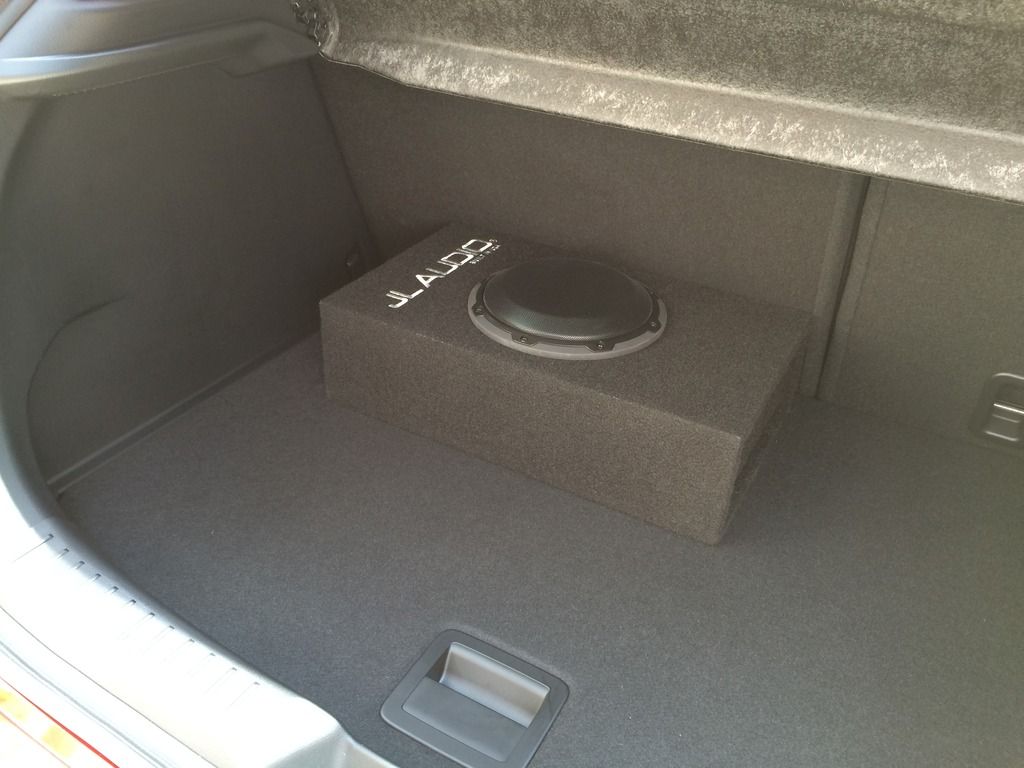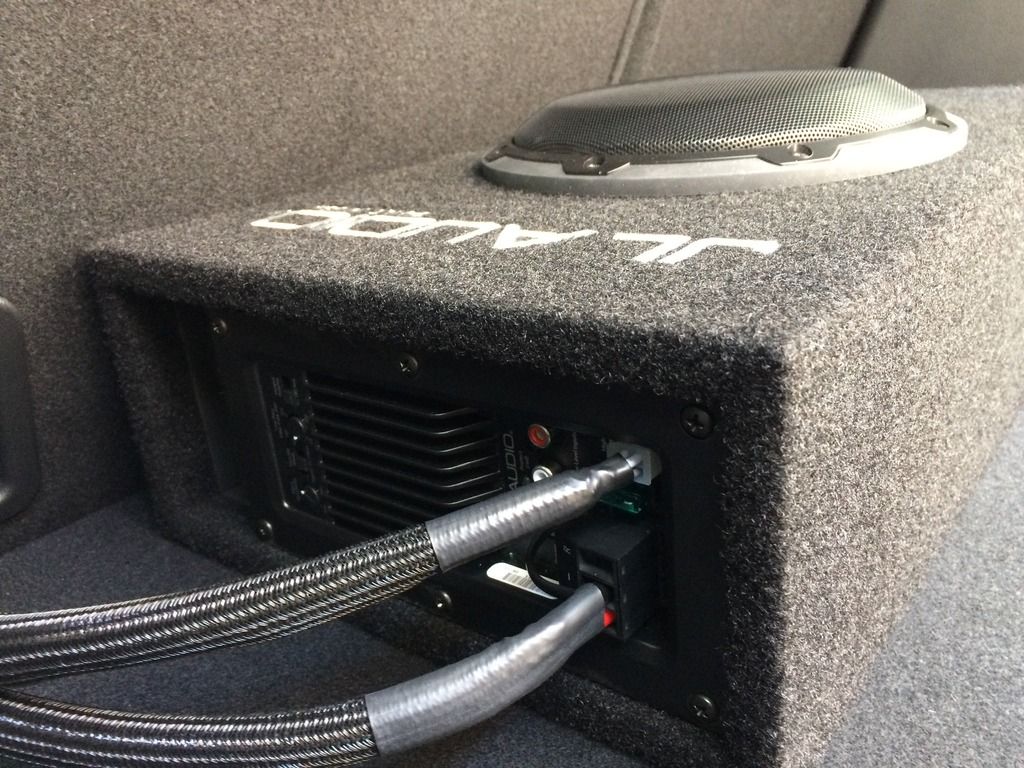 http://www.jlaudio.com/rbc-1-car-aud...essories-98015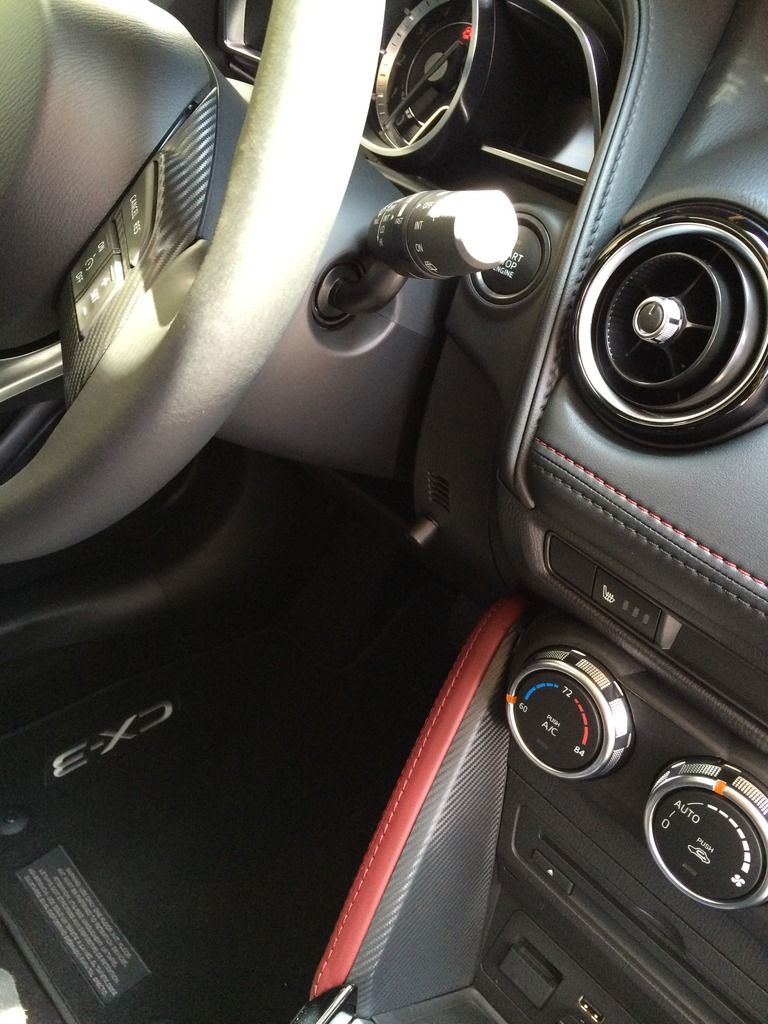 The fuse holder was made from a piece of ABS plastic. With a heat gun, applied heat to the middle of the plastic piece (while in a clamp) and bent it to the desired angle.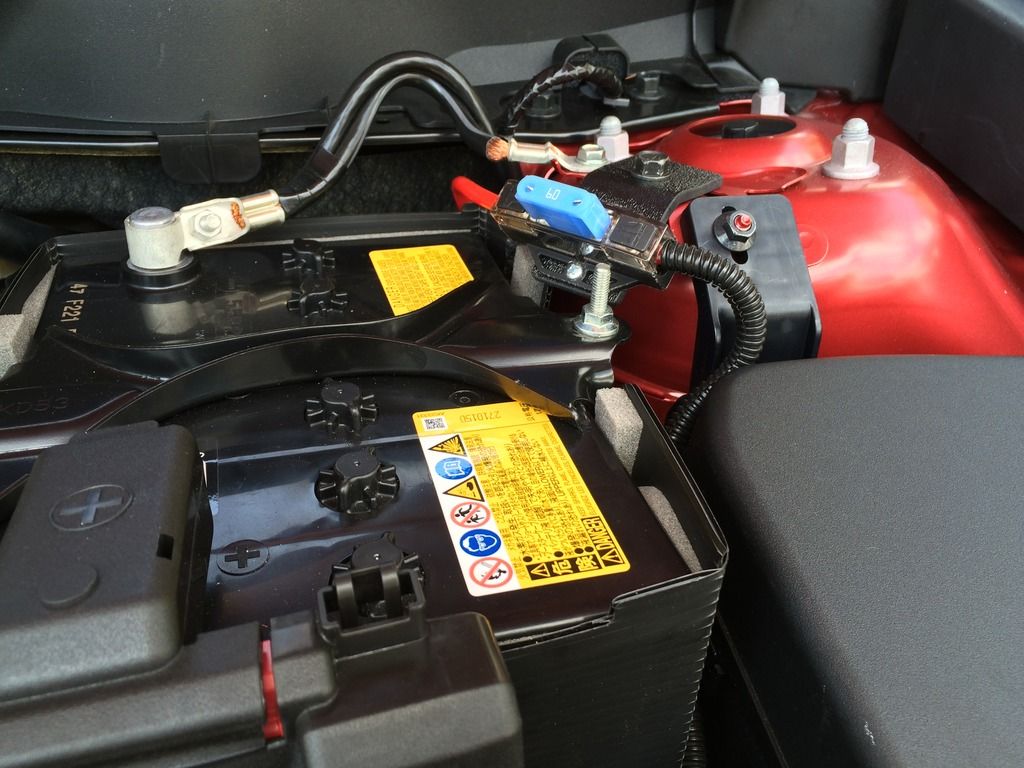 I feel it came out pretty nice. The install was very easy. A battery wire and the bass remote knob wire from the front and ran those two to the back. Spliced into the signal (high level inputs) wires from the OEM sub in the spare wheel (5" sub enclosure). I disconnected the OEM sub. Ground wire was attached to the rear end of the car by the spare wheel. All in all, it was very easy and not too time consuming. My guess about 1 - 1 1/2 hour.
Hope you guys and gals like.
---
Salmon, the other pink meat.
---
Last edited by Red Devil; 03-26-2016 at

07:55 PM

.
Junior Member
Join Date: Oct 2015
Location: NJ/Philly
Posts: 20
Mentioned: 1 Post(s)
Tagged: 0 Thread(s)
Quoted: 9 Post(s)
10" JL Sub
---
Hey RD great post. I was JUST about to ask the forum about adding a subwoofer. Do you think this would fit where the current sub is located:
JL Audio 10W0v3-4 W0v3 Series 10" 4-ohm subwoofer at Crutchfield.com
I'm going to use a separate amp (probably an Alpine MRV-500) to power the sub exclusively. Will use an "adaptor" so I can still use the Bose amp to power the rest of system. (or is that a bad idea?)
Thanks!
Junior Member
Join Date: Mar 2016
Posts: 8
Mentioned: 0 Post(s)
Tagged: 0 Thread(s)
Quoted: 0 Post(s)
Hey Soldano, you are going to need an enclosure for that sub. It is probably going to be bigger than the space in the spare wheel area. You might need to get rid of the spare wheel for that. You can also build a box and sit it up top, similar to what I did. Also a 10" sub with 500 watts; you are definitely going to over power your OEM speaker (doors and dash) system. Maybe a smaller amp or upgrade your entire system.

There is no adapter required just splice or tap into the rear wire harness and use (if the Alpine amp has it) the "high level input" inputs. If not get a converter or another amp. I disconnected my OEM spare wheel sub enclosure to run my new set up. Also remember that there is probably a great amount of factory EQ'ing even for the subs at several volume output. Meaning that at certain volume levels the base might louder or softer at times. To fix this it will require different audio equipment, but you might not even notice.
---
Salmon, the other pink meat.
Senior Member
Join Date: Nov 2015
Location: Australia
Posts: 220
Mentioned: 4 Post(s)
Tagged: 0 Thread(s)
Quoted: 46 Post(s)
Very cool indeed..

So what high level speaker input did you use.

In a Bose system I thought the sub would be working off a line level signal.

My Akari does not have Bose and abet more Bass is always good :-)
---
2015 CX3 Akari - 2.0 Petrol AWD

To view links or images in signatures your post count must be 0 or greater. You currently have 0 posts.

Mods: Pedal Kit, Hood Insulator, Boot Liner, Front Parking Sensors, 40% Tint, Paddle Shifts, USB to Glovebox..Console, Infotainment Tweaks......
Junior Member
Join Date: Mar 2016
Posts: 8
Mentioned: 0 Post(s)
Tagged: 0 Thread(s)
Quoted: 0 Post(s)
Hi Craig, the enclosure is a single 8W3v3-0.40 Ohm Subwoofer Driver, with a Built-In 250W Class D Amplifier. The amp has the option of two input levels low and high. Low level - small voltage signal from the head unit or source. High level - watt powered signal from from source/amp.

The CX3 GT in the US comes with a Bose system that includes a 5" sub box (made of plastic) in the spare wheel well. The signal for that sub is powered by the tiny amp under the front passenger seat. Since there is no amplification in the sub enclosure I was able to tap into the wires before connecting into the box. I plan on connecting a RTA to measure the signal and see how clean or not it really is.
---
Salmon, the other pink meat.
Senior Member
Join Date: Dec 2015
Location: DFW
Posts: 106
Mentioned: 0 Post(s)
Tagged: 0 Thread(s)
Quoted: 27 Post(s)
That is a nice sounding sub! Amazing for the size and it does not take up much (dearly needed) hatch space. I considered doing something similar in my '13 MS3 and now in my CX-3. I am a member of another forum (hint: it has the word "Speed" in it and some members were quite rude). The consensus from many who had installed aftermarket subs was to install a line converter (PACMAZ, I believe) before the signal hits the amp (i.e. from the head unit itself). Apparently, Bose does some wonky stuff with their signal processor and sub woofer based on speed, etc. that could negatively affect the sound of a user-installed sub. Now, I do not know if the same is true with our Bose system since we do not have Centerpoint or AudioPilot. I am curious to see what your measurements look like. If they are clean, it would make a installation much easier (like the one you just did). Have fun and good sound to you!
---
'16 Meteor Gray Mica FWD GT
Posting Rules

You may not post new threads

You may not post replies

You may not post attachments

You may not edit your posts

---

HTML code is Off

---