Member
Join Date: Feb 2018
Location: South Africa
Posts: 44
Mentioned: 0 Post(s)
Tagged: 0 Thread(s)
Quoted: 10 Post(s)
Polishing/Detailing
---
Hi All,

I come seeking wisdom from the oracles of the interwebs...

Planning on doing a full detailing etc on my CX3, myself (I'm old school like that). I've got no issues on the interior, regarding how to go about that etc - leather, vinyl, carpets - straight forward.

So the exterior, I wanted to know or hear the community thoughts on this, particularly the order of things, particularly steps 4 & 5? Then step 7 - no clue what to use?

1) Wash - first hard wash(remove all the grime and build up), then soft wash (conditioning the paint etc), dry -duh.
2) Cleaner wax(Turtle wax - just prefer this cleaner)
3)Scratch remover (meguiars, works best for me), as there are some very fine scratches (such is life of the car).
4)Polish (I say again, Polish - not wax). Haven't decided on this type yet.
5)Wax (most likely Meguairs again - still have enough from the other car).
6)Plastic trim all around - not polished or waxed, just conditioned to make it sparkly clean, with a rich black colour.
7)The rims - not a clue here, first car I owned where the rims look like it's clear coated (OEM Mazda Rims - can see it in my album). If it was a polished metal alloy - no issues, I know how to do that.
Polish/wax will all be done with Orbital polisher.

Thanks in advance, look forward to the responses. I'll post images when I do it. Now I'm just doing the recon.
---
2016 Cx-3, 2.0L petrol, manual transmission. South Africa.
---
Last edited by Zechariah936; 07-31-2018 at

11:31 AM

. Reason: Forgotten info
Senior Member
Join Date: Dec 2015
Location: Connecticut USA
Posts: 437
Mentioned: 7 Post(s)
Tagged: 0 Thread(s)
Quoted: 113 Post(s)
Curious as to why step 2 is cleaner wax when other steps essentially strip it out?

I always figured a general rule of thumb was:
1)wash - this would including cleaning gunk which apparently was one of the uses for cleaner wax but seems counterproductive since next steps remove it.
2)clay - depends if necessary but usually the base starting level which tries to remove all contaminants and also removes wax layer.
3-5) compound - polish - scratch remover - generally the same thing but compound is the harshest and moves onto finer (much like sandpaper grades)
6)Wax - to reapply wax stripped from practically every previous step
7) UV protectant - I find UV protectant seems to restore its shine and keeps it lasting longer. Can be applied to exterior plastic trim, wheels/rim, and even tires. 303 sells one without petroleum distillates and other stuff that can damage tire rubber like almost every tireshine.


The last one was like voodoo for me when I discovered it. I thought it was one of those dumb products that get marketed as an all purpose thing but it actually is pretty good. Finding it at a decent price is the challenge since my local autostores here sell it at 16 oz for about $18 while amazon had the 32 for less than $20 so that was irritating to learn I got ripped off a bit lol.
---
2016 CX-3 GT AWD - Crystal White Pearl Mica.
My wants-to-grow-up-to-be-a-rally-car car
Super Moderator
Join Date: Aug 2016
Location: Chicago, IL, USA, North America, Earth, Sol System, Sector ZZ9 Plural Z Alpha, Milkyway, Universe
Posts: 538
Mentioned: 4 Post(s)
Tagged: 0 Thread(s)
Quoted: 144 Post(s)
Because clay is tedious and you can't do it with a random orbital tool?

My solution is to drop it off somewhere because my time is devoted to trying to keep my race car running.
---

2016 CX-3 GT iAS AWD, Soul Red Metallic on black
2017 MX-5 RF Launch Edition
2005 RX-8 Sport Sunlight Silver under Cone Rash (because racecar!) -- SOLD!

Science adjusts it's views based on what's observed.
Faith is the denial of observation so that belief can be preserved.
-Tim Minchin.
Super Moderator
Join Date: Jul 2015
Location: Derbyshire UK
Posts: 2,078
Mentioned: 41 Post(s)
Tagged: 0 Thread(s)
Quoted: 483 Post(s)
I recently gave my 3 month old CX5 a coat of Collinite wax. The upper flat surfaces weren't clean enough so I clayed them. This was just the hood. I can not recommend Collinite enough. It's very easy if you wipe it on and straight off, one panel at a time and it's the longest lasting wax I've come across.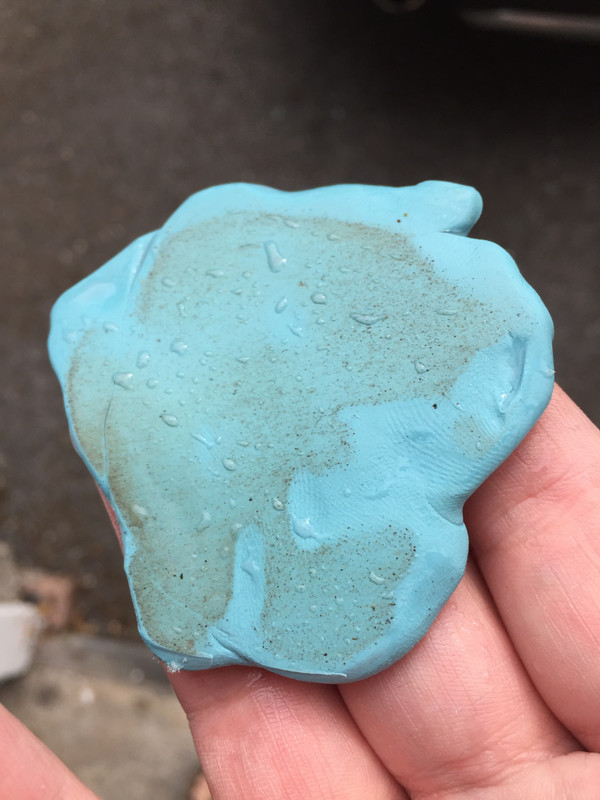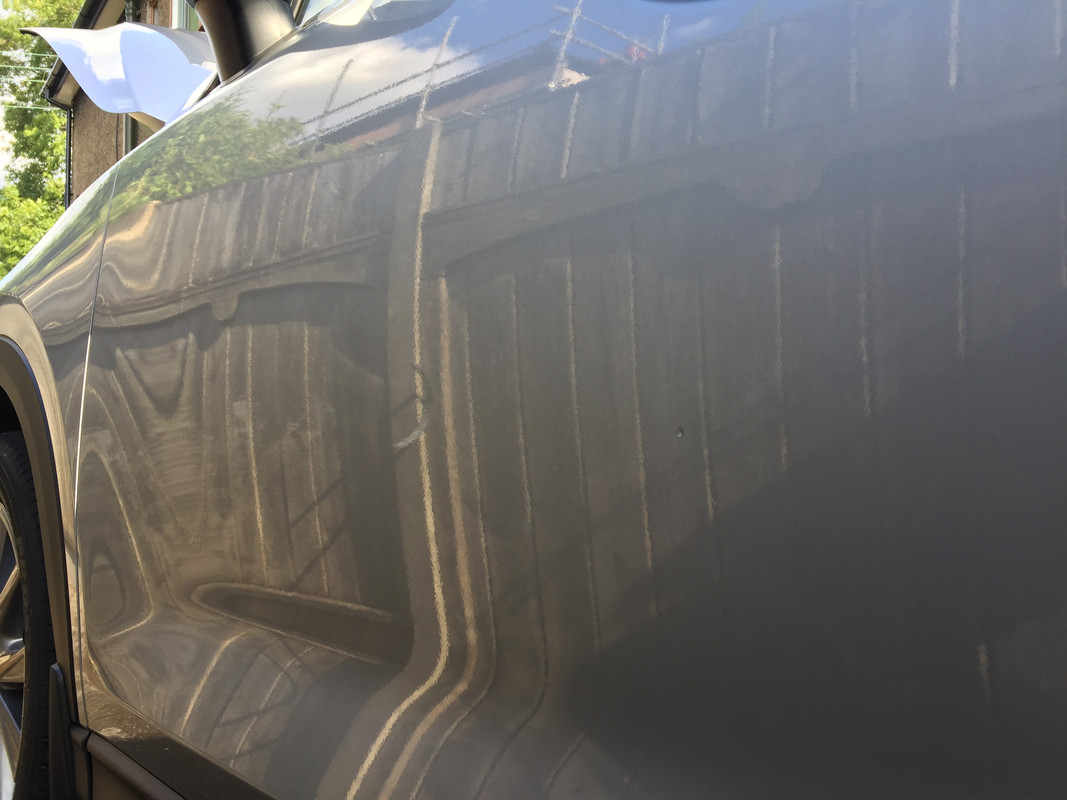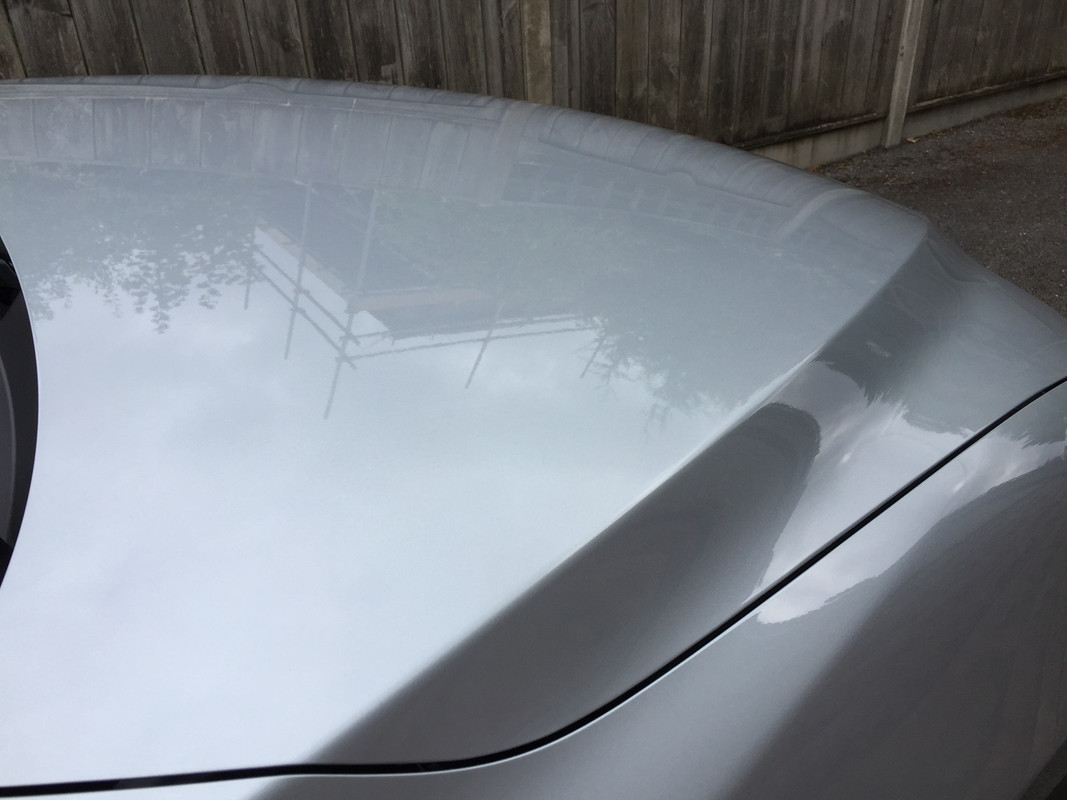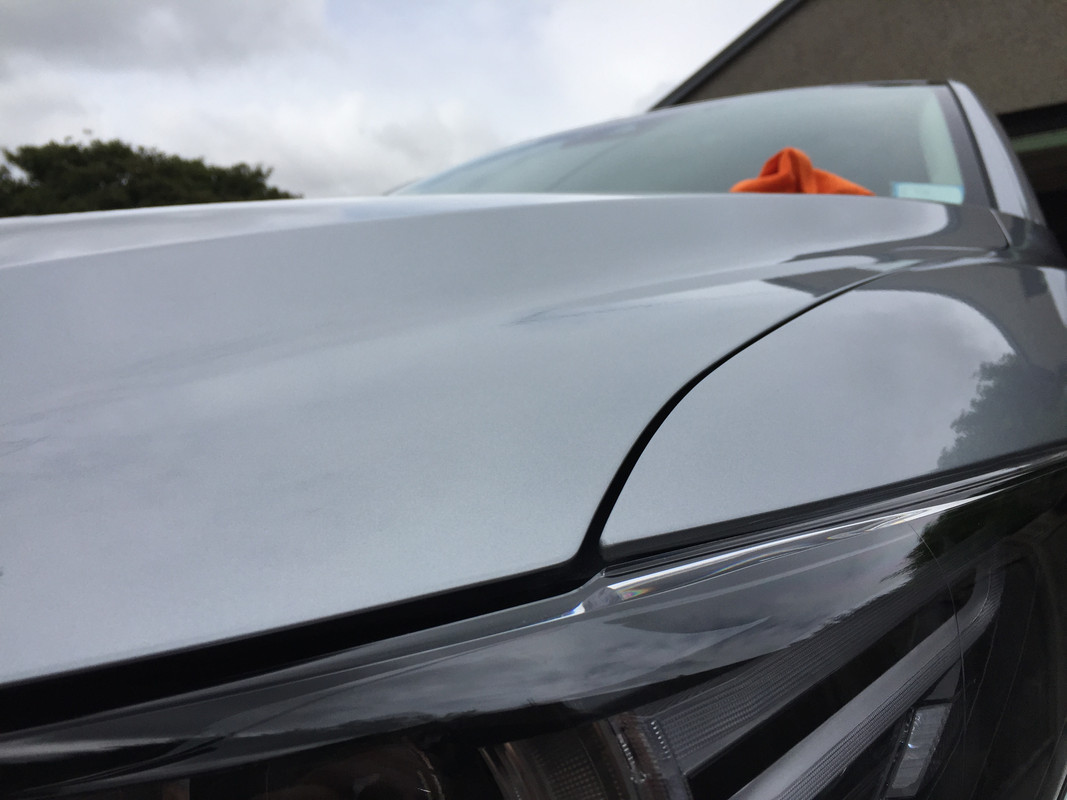 ---
Currently CX5 SportNav 2.2 diesel automatic and AWD.
Formerly CX3 SportNav 1.5 diesel automatic and AWD.

All advice is given in good spirit and taken entirely at the readers own risk. WORK SAFELY. ©2018 anchorman

ď.........and another thing"
---
Last edited by anchorman; 08-01-2018 at

08:05 AM

.
Junior Member
Join Date: Sep 2018
Posts: 11
Mentioned: 0 Post(s)
Tagged: 0 Thread(s)
Quoted: 0 Post(s)
SLY COOPERS

May i surgest the you do not use any kind of power tools or pressure wahers on your vehicle always wash and wax by hand.

Some people have problem using paste wax, it is time sensative. It is like watching paint dry or grass grow. There is nothing wrong with paste waxa so long as you have the patirence and time who say you have to wax a car in one day.

there is an alteranative try using paste wax it is liquid synthetic wax.
you may like to choose Meguires "ultimate " which is a liquid synthetic wax which a lot easier to apply.

Many people apply products way to thick on the car body paint .

Also try polising the wax and not the car why put it on to take the stuff off. folt cloth over 3 or 4 times.

Any body tried lemon pledge furniture polish on their rubber and plastic you will be amazed how the stuff makes tires look good , like you just purchased them 20 monutes ago.
the stuf does not last for ever, nothing does.

Car waxes do not last very long say two months at best, note the roof and bonet ne extra attention.

Never use a chamois on paint work, ok for window glass only, try to make the class cry.

use a damp micro cloth to dry off the water from paint work .

a vacuum cleaner " WET VAC " on blow cycle also gets rid of warter. Do get rid of or replace the dirt bag or filters first.

SOMERS
Junior Member
Join Date: Sep 2018
Posts: 11
Mentioned: 0 Post(s)
Tagged: 0 Thread(s)
Quoted: 0 Post(s)
lease can some one tell me how i can post a picture on my car over to the side bar .
can some on advise me how to increase the messageing font size .
Junior Member
Join Date: Sep 2018
Posts: 11
Mentioned: 0 Post(s)
Tagged: 0 Thread(s)
Quoted: 0 Post(s)
FOLDING THE MICRO FIBER CLOTH
Polishing ::: If you fold the micro cloth corectly you should be able to get 8 x 1/4 size sections for polishing, each section will have a backing of 3 layers, I always use more than one micro cloth for polishing wax.

DRYING A VEHICLE WITH A MICRO CLOTH
Drying ::: The slower you drag a double or single layer of the microclothacross the vehicle the more water wil be removed from the vehicle.

SPEED DRYING ::: No body said that you could not use two micro cloths , one in each hand .

NOTE ::: There is a section " Duck pond " directly below the rear window winds screen wiper the rim needing extra care during the dying process , even after rain has cleared.

AT YOUR OWN RISK:::
With a water spritzer spray 50/50 water and white vinegar on small portions of the vehicle wipe dry only with a coton "T" shirt ( NOT MICRO CLOTH THIS TIME ) you can also do this in the sun then go win first prize at an auto show.

200 years ago they did not have fancy cleaning preparations vinegar was king and queen, White Vinegar 5% " ASETIC ACID" kills gems and mould and cleans 98 + other items.
WARNING ::: test first

PS::: WHERE DO YOU KEEP YOUR FIRE EXTINGUISHER AND FIRST AID KIT.
Posting Rules

You may not post new threads

You may not post replies

You may not post attachments

You may not edit your posts

---

HTML code is Off

---